Frequently Asked Questions About POS System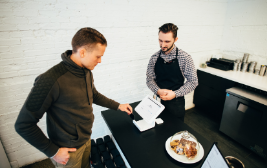 In the market place today, you'd find so many different types of POS systems with various features. However, they are all serving the same primary purpose. That is, to track the daily sales transaction and to smartly capture data for your business analysis. However, as simple as it sounds, there are important information about POS that beginners need to know. Here are some of the most frequently asked questions about the various types of POS systems out there.
How many types of POS are there in the market place?
There are many different types of Point of Sale devices. There are Mobile POS, Desktop POS and even Tablet POS. However, the most common type is the Desktop or the Tablet kind due to its larger screen for convenient viewing.
Other than differentiating by the type of hardware, it can also be differed by the features. Examples include: Touch Screen POS, Self-service POS or Cloud POS.
What type of POS system is used in restaurants or small retail stores?
For F&B businesses like restaurants and cafes require a POS system with features like table mapping, menu management and inventory management. An ideal system will also include ingredient-level tracking, order modifications and menu costing.
However, for fast moving F&B businesses like Fast Food chains would require Self-service POS system that allows customers to order and make payment by themselves. The system would also include take-away feature, which makes table mapping module redundant.
For retail stores, inventory management in the POS system is highly necessary. This is because retailers need to be able to manage their inventories easily and conveniently. Having such feature would allow them to be notified when the stocks are low. It would also include reordering of stocks and product analytics.
Should I use an open source POS?
An open-source POS system is suitable for businesses that can modify and customize to their needs. This type of point of sale might require a bit of technical knowledge to operate on your own.
Some open-source point of sale can be found online for free. However, be careful of free ones as it might come with limited features and transactions. In the worst case scenario, the supplier might lock the free features in the future, since they have the full control. 
Additionally, although this way might be cost-effective, you may require more maintenance and updates over time. In the long run, you might also need a technical person to help you maintain the software if new features are introduced.
Therefore, there are many different types of POS systems available out there. Depending on your needs and your business operation type, you'd need to make sure you find the right Point of Sale that suits you. Ultimately, it is still safer and better to speak to a local POS vendor who will be able to give you the best advice.
Still unsure and have more questions about POS?
Our team at Simplus is always open to answering your questions about POS system. If you are still unsure and need a more layman answers to your questions, please feel free to reach out to us at info@simplus.tech. You can be assured that we will do our best to help you understand better. Don't worry, we don't do hard selling.